Message to Shareholders and Investors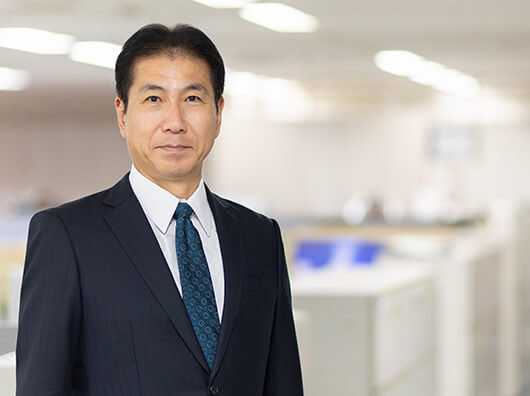 * Corporate philosophy
Pursue technology, create value, and grow together with customers.

* Purpose
Quest will continue to support the safety and well-being of people and society with our technological capabilities and creativity.

Thank you to our shareholders and investors for your continued support.
I would also like to express my heartfelt respect to those who are working day and night on the front lines to prevent the spread of the disease.

Our company will also implement necessary measures to prevent the spread of the novel coronavirus, and make every effort to bring the situation under control as soon as possible and to further develop society and the economy.

From the beginning of the fiscal year 2020, the global economy was affected by the spread of the new coronavirus and was placed in a very unstable environment in conjunction with the worldwide decline in economic activity. Global economic activity, which assumes that people and goods move around the world, has been suspended for a long period of time.

Additionally, trade friction between the United States and China and the supply-demand balance of semiconductors have had a major impact on the automobile industry.

In midst of major environmental changes such as the spread of new coronavirus infections and changes in lifestyles, we anticipate of the after-corona's environment, we have established "Quest Vision2030" as mid to long term's vision to take advantage of the opportunities for digital expansion in industry and society.

In order to transform ourselves into a distinctive and excellent company in the highly competitive IT industry, growth drivers are essential, and we have defined new areas of entry.

More specifically, in order to simultaneously increase the three values of customer value, social value, and economic value through business activities, in addition to existing industries, we will enter, expand, and grow the data business, and aim at the healthcare and medical fields toward the coming digital data society.

In response to changes in customers' economic conditions and working styles, as well as the diversification of markets, the 2021 - 2023 Medium-Term business Plan calls for steady implementation of the following three reforms: business structure reform, industrial portfolio reform, and internal structure reform.

Quest will acquire technologies in fields with growth potential, promote education and DX promotion on our own, and make investments to strengthen our systems.

In addition to increasing enterprise value, we will position the stable return of profits to our shareholders as an important management issue, and as our business performance grows, we will secure sufficient internal reserves to acquire future technologies, secure human resources, and prepare for unforeseen circumstances, while proactively distributing profits.

We will establish a sound management foundation by making appropriate investments and returning profits to shareholders in order to achieve sustainable growth and maintain a highly profitable structure.

By implementing the new mid-term management plan, we will strive to fourfold our corporate value and exceed 20 billion in sales, which are the goals of Quest Vision 2030.

Each and every one of Quest is committed to contributing to society, improving the Quality Of Life of people, and enhancing the value of our clients' businesses by taking social issues into consideration. 

We look forward to your continued support for Quest.