Quest Co., Ltd. was launched in 1965 during the pioneer days of the information services industry. It was listed on JASDAQ in October 2002, and subsequently approved as marginable stock in April 2004.I would like to take this opportunity to express our utmost appreciation to all who provided their support and cooperation to enable Quest to be where it is today.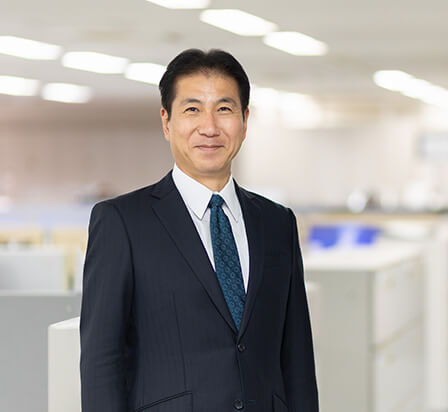 Quest holds the practice of sound management and steady development as its management principle. Without unduly pursuing the enlargement of business size, Quest focuses on the neutrality it possesses for the very reason that it is an independent company, and offers IT services and solutions by placing itself in the client's shoes. It firmly believes that this stance has been recognized by clients and has enabled the company to build sound financial strength without ever incurring losses since establishment and achieve growth as a comprehensive information services company.
With a new start, Quest has established management philosophy system and established a corporate philosophy.
Purpose :
Quest will continue to support the safety and well-being of people and society with our technological capabilities and creativity.
Vision :
For realization of the digital data society performing co-creates the value, Quest will continue to become a leading company in "IT services trusted by you".
※you・・・including customer, partner and all stakeholders
Values:
Quest use innovative technologies to provide "sincere service"
※ sincere service means "Beyond the constraints of time and place, automating operations and supplementing and reinforcing human power".
While practicing the dual approach to management principle of "Quest" (to explore new technologies and services) and "Cultivation" (to pursue IT services that improve the enterprise value of our customers), which is the origin of our company name, Quest will pursue to gain the trust of our customers.

To this end, we will contribute to society and increase the corporate value of our customers by providing one-stop services that include consulting, system construction, operation and maintenance.

In the future, we will continue to pursue our new brand slogan of "Quest For More" through various initiatives.

We would like to ask for your continued understanding and support in the future.